Race Details
Latest update 1/9 14:00
Please check this info again before the race - more details will be added.
200 participants will run the VOC 3-days and on the final day 350 participants are registered. For the sprint relay we have more than 70 teams on the start. It will be an exciting sprint-O weekend in Vienna!
Registration - Race number & Goodie bag
Registration opens Friday, 30 August 16:15 at the event center (EC) Donau City - Kletterpark - and on the other event days 1 hour before the first start.
Collect your race number (for all days) and goodie bag. Safety pins are provided on demand.
Rental Sportident cards are available (2€ for 1 day, 5€ for 3 days). No deposit. If you loose it you will be charged 30€.
Entry on the day
At the registration.
Newcomers (23 €), Men/Women Open (25 €), Team Challenge (36 €/team). Limited spots available in other classes.
Sprint relay entries
We accept entries for the sprint relay until Sunday 9:00. The earlier, the better.
Entry forms available at the registration. Youth 18 €, all other classes 36 € (12 € per runner).
Mixed teams of 3 runners in Youth-16 / 17+ / 35+ / 50+ classes. Open relay class is for everyone. Try to find teammates on the first 2 stages. We will put on a list on the info board where you can add your name.
Information relevant for all 3 days
Maps
Drawn to sprint map standard ISSOM 2007 (map symbols) on stage 1 + 3 and ISSprOM 2019 (changes) on stage 2. Scale 1:4000 (1 cm on the map = 40 m on the ground), contours 2m. 1:3000 for age classes 45+.
Fair Play - Rules
No wall or fence mapped as forbidden-to-cross may be crossed, also if they appear to be passable. Areas mapped by a olive green colour are not to be entered. Such areas might be flower beds or private gardens. Failure to comply with the above may result in disqualification. There will be event officials out around the courses checking.
Safety
There is little traffic on roads in the competition areas at stage 2+3+sprint relay. However, no roads are closed for the events and you may therefore meet traffic throughout the courses and it is your responsibility to take care. It is a special privilege to run in some of the areas. Residents and many park visitors are in the area. Do not jeopardise future use of the area through reckless or inconsiderate running which causes annoyance or injury to others.
On all three stages there are areas with narrow passages, take care so you don't crash into each other.
You must download at the finish, even if you abandon your race.
Newcomers
Please check the Guide with the basic information you need to figure out how it works. Event officials are here to help you if you have any questions before the start.
Start
Please check your start times. Runners in Newcomers and Team Challenge classes have free start time (Friday 18:00-19:00, Saturday 11:00-12:00, Sunday 10:00-11:30).
If you can't make it to your start time please check with the start officials - you may need to wait until the last runner has started on your course.
Elite Group
In Elite classes a "red group", with the 15 best ranked athletes including wild cards start within 15 minutes. Race numbers 1-15 (Women), 51-65 (Men). Ideal for spectators to follow the race.
Bag drop
There will be a possibility to store your belongings during the race at the event center. Organisers do not take any responsibility for lost items.
Water
It will be hot. Please bring your own water bottle. Simply refill it in any tap - Viennese water comes directly from the mountains.
→

3 min before start

→

- 2 min

→

- 1 min

Start

Call-up
1. Clear SI-card
2. Check SI-card (SIAC on)
3. Control descriptions
Go to the correct map box for your course.

On the start beep,
1) pick up your map, and
2) punch at the start control unit and go!
During the race
Control points are marked with an orienteering flag and an electronic timekeeping unit. Each control has a unique code (e.g. 31). On the map you will also find a control description with codes for each control on your course. By checking the code with the control description you can make sure that you are at the correct control. Note: if you punch a wrong control in-between it does not matter. Just continue to your control. However, you must visit the controls in the correct order (Start-1-2-3…).
Finish
On each day there is a common last control (no. 99) for all courses. Follow the marked route to the finish and punch (SI card) or swipe (SIAC card) at the Finish control to record your finish time and then proceed straight to Download. If you have hired an SI card, please return it after your last race. There will be a charge of 30 € if you lose a hired SI card.
Maps can be kept at stage 1+2 (do not show it to late starts). At the 3rd stage you have to give it to a race official. Maps will be handed out after the sprint relay.
Control descriptions
Printed on the map for all courses. Loose control description will be available in the Start lanes for all courses.
Timekeeping
Sportident electronic timekeeping will be used with mixed punching. Competitors with a classic Sportident card will dib in the ordinary way, SIAC users will be able to use it touchfree. You can get hold on a new SIAC touchfree at the EC.
Sportident Card Hire
There will be a charge of 2 € (1 day) or 5 € (3 days) to hire a Sportident card. The charge for a lost Sportident card is 30 €.
Results
Result screen and online results with radio controls, overall results on the VOC website.
Prize giving ceremony
Prize giving ceremony for the top 6 in elite classes and top 3 in all other classes for the 3-days ranking will be held on Sunday at 14:30 at the EC.
Medal ceremony for Vienna & Lower Austrian Championships at 15:00.
Special Instructions
No club tents allowed in the event arenas (only in case of rain on stage 3). Bring your club flag. No spike shoes allowed.
OL-Shop
OL-Shop will be open at stage 3. Sportident cards, compasses, control description holders available at stage 1+2 - and ordered items can be collected on all days.
Stage 1 - Friday - Donau City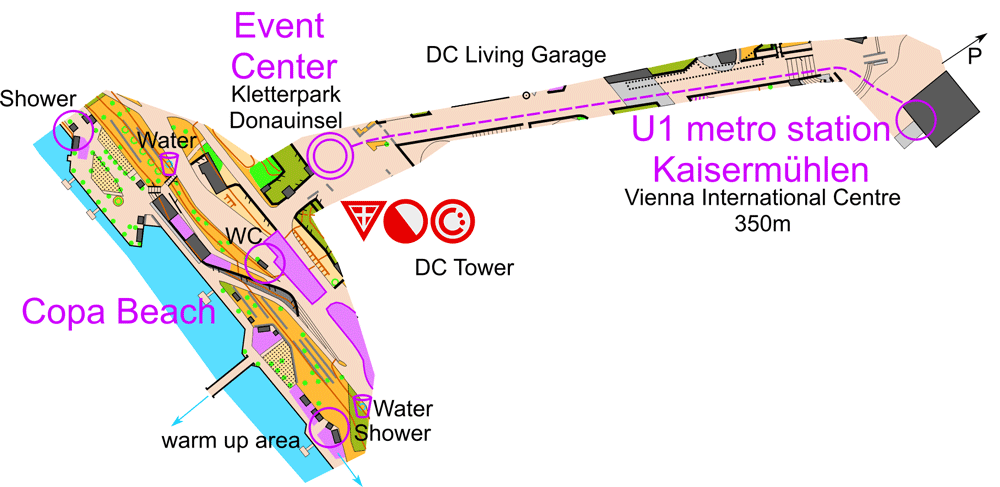 Toilets

Toilets (0,50€, pissoir is free) and outdoor showers at CopaBeach. Swimming in the Danube.

Warm up area

EC, along the Danube and on Donauinsel. Cool down after your race in the race area / Donaupark.

Start

50m

Map information

Olive green areas [A] (flower beds) are not to be entered. In the shown map sample it is allowed to run on yellow and white areas and walls [C].
Multilevel area: Only the main running level is mapped, not the street underpasses under the competition area. Do not open doors during the race, then you might end up on a unmapped level.

Radio control

Radio control (no. 40) for most classes after 1/2 of the course. Times are be displayed on the Results screen & online. The arena speaker will give soectators updates about the standings during the race.

Catering

Food stands at the EC, restaurants at CopaBeach.

Climbing park

The event center is at the Kletterpark Donauinsel. Orienteers pay only half price for the rope climbing. Open from 1 pm – 8 pm.
Stage 2 - Saturday - Türkenschanzpark
Event Center opens 10:00
Start times 11:00-12:00
Course closing time 13:00
Feistmantelstraße, 1180 Wien
Bus 40A, 10A to stop Dänenstraße or tram 41 to Türkenschanzplatz
Free parking on the streets nearby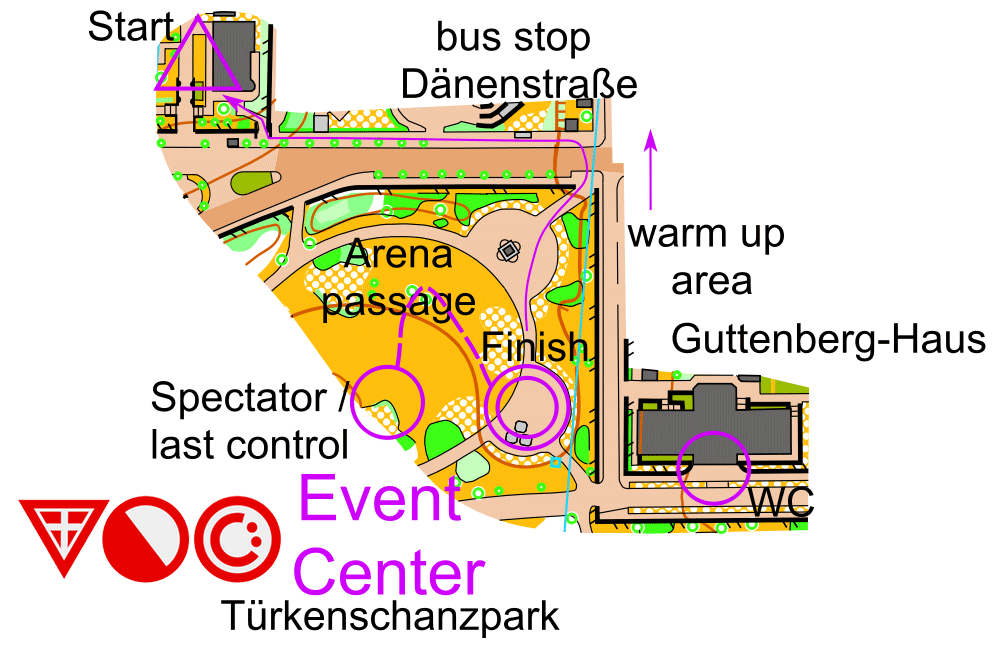 Toilets

In the University building "Guttenberg-Haus", 50m. No showers.

Warm up area

At the EC and outside the park in northern direction. Cool down after the race in the park.

Start

200m - marked with signs

Road crossing 1

After the first controls a road has to be crossed. Not much traffic, it can be crossed anywhere - take care!

Road crossing 2

Mandatory crossing point - after control no. 40 - you must cross the road on the crosswalk. Slow down and be cautious!


Arena passage

Elite runners have a arena passage with map change. Follow the marked route from control no. 99 to the start sign. The two maps are on the same side of the same paper; first map on the upper and second map on the lower part. The arena passage is the same control as the last control. After the second part follow the marked route to the finish.
In the first map there will be marked:

the last control of the first map and
the flagged route to the starting point where the orienteering continues on the second map.

In the second map there will be:


the new starting point, and the controls numbered in the consecutive order.

Radio control

Radio control (no. 40) for all classes after 1/3 of the course.

Control descriptions

Max. 27 cm!

Restaurant

Meierei Diglas (300m, in the Park)
Stage 3 - Sunday - Campus WU
Campus WU is embargoed area - please do not enter the competition area before your race!
Event Center opens 9:00
Sprint: Start times 10:00-11:30, Course closing time 12:10
Sprint Relay: Mass start 13:10, Course closing time 14:30
Prizegiving ceremony 14:30 (Top 6 in Elite classes, Top 3 in other classes)
Am Grünen Prater, 1020 Wien
Metro U2 to Krieau (500m) or tram 1 Prater Hauptallee (400m)
No parking at the EC. Free parking on streets nearby, e.g. Vorgartenstraße (400 m). P garage Campus WU (2,2 €/h) is under the embargoed area. It is only allowed to leave the garage through the car entrance/exit.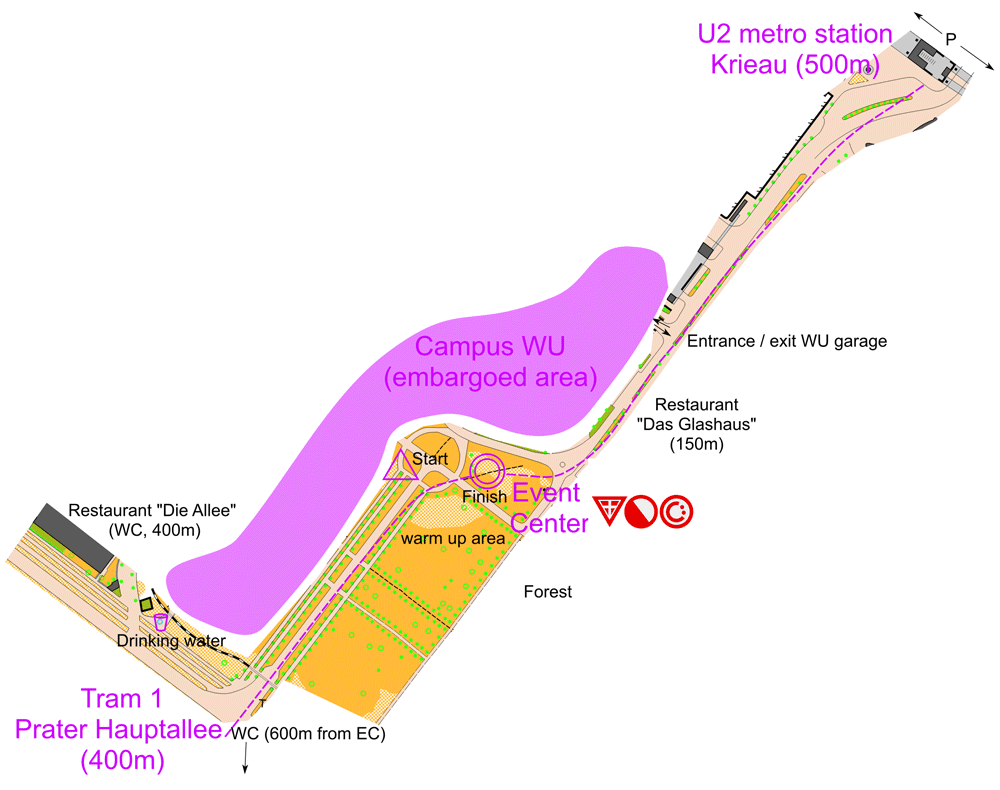 Toilets

In the restaurants nearby (150-400m), public toilet (600m, follow the Kaiserallee). After your last race the toilets in the Executive Academy (black building, in the campus area) are also available.

Showers

No showers at the event arena. Closest possibility is to walk to the Stadionbad (entry fee). It is 1.2 km away (Route to Stadionbad).

Team lineups

Please provide final team lineups until Sunday 9:00.

Warm up area

Prater Hauptallee and forest.

Start

50m

Map

Some parts of the area had to be generalised for improved legibilty - do not run into purple out-of-bounds areas.
Also, stairs with dead-ends have been generalised and only the first part of them are mapped:

Wooden seating areas are drawn as paved area and crossable (see map sample):

Radio control

Radio control for elite classes after ca. 50% of the course and on many other classes too. The Arena Speaker will focus on elite classes. Check the live results to follow your favorites.

Shoes

It is strictly forbidden to use shoes with metal studs in the area.

Water

Closest water station is 400m away. Please bring enough water with you to the event!

Restaurants

Das Glashaus (150m), Die Allee (400m), Das Campus (200m, in the race area - only allowed to visit after the sprint relay!).
Sprint Relay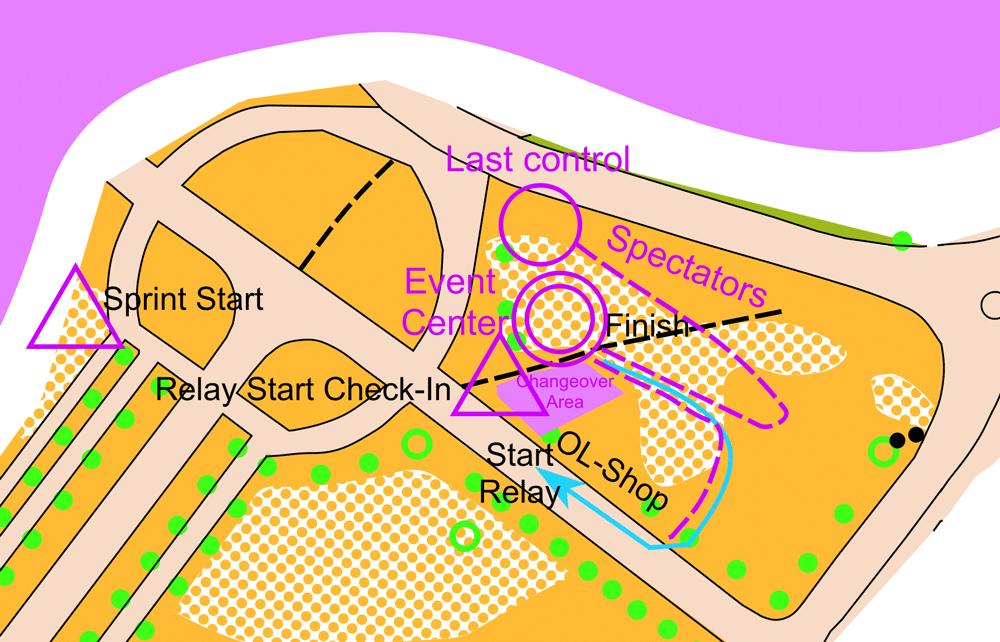 Race Numbers

1st leg blue, 2nd leg green, 3rd leg red.

Team Lineup / changes

Please provide the final team lineup before Sunday 9:00. You will get team change forms at the registration.

Presentation changeover

At 12:50 the changeover procedure will be presented.

Start Check-In

All 1st leg runners need to check-in at the start no later than 13:00. 2nd and 3rd-leg runners need to check-in in time for changeover. Please do not wait until the last minute!

Clear Sportident card
Check Sportident card (SIAC on)
Collect correct map - check team number + leg number on the sticker. It is the competitors responsibility to take the correct map. The map is wrapped with a rubber band. It is not allowed to open or try to open the map before the mass start/changeover. Breaking this rule leads to disqualification of the team.

Mass-start

13:10 - for all classes.
First leg runners must follow the instructions of race officials. Teams will be lined up according to their team number. All first-leg runners must stand at their assigned position 3 min before the start. The arena speaker will give a start sign. There is a marked route to the start point.

Changeover

The incoming runner passes the finish line and continues running ca 5 m further to the changeover barrier. The changeover is done by touching by hand. The outgoing runner can open the map only after the changeover. There is a marked route to the start point.

After the changeover

Continue to download, and give the map to the officials.

Radio / Spectator controls

Radio control after 65% of the course, and spectator control 1:15 min before the change-over.

Courses

Check code numbers and visit in correct order! (many direction changes - controls very close to each other). Control description with code numbers on the map.
Courses
All course lengths measured on shortest running distance.
Stage 1

Friday

Stage 2

Saturday

Stage 3

Sunday

Map scale
Team Challenge
2,8 km
3,2 km 70 m ↑
2,8 km
1:4000
Newcomers
2,7 km
3 km 55 m ↑
2,5 km
1:4000
Youth
2,2 km
2,6 km 50 m ↑
2 km
1:4000
Men Open
3,2 km
3,8 km 85 m ↑
3,4 km
1:4000
Women Open
3 km
3,2 km 60 m ↑
2,8 km
1:4000
Men Elite
4,1 km
4,3 km 100 m ↑
4,3 km
1:4000
Women Elite
3,5 km
4 km 80 m ↑
3,6 km
1:4000
Men 45+
3,2 km
3,8 km 85 m ↑
3,4 km
1:3000
Women 45+
3 km
3,2 km 60 m ↑
2,8 km
1:3000
Men 55+
3 km
3,2 km 60 m ↑
2,8 km
1:3000
Women 55+
2,5 km
2,8 km 55 m ↑
2,3 km
1:3000
Men 65+
2,5 km
3,2 km 60 m ↑
2,3 km
1:3000
Women 65+
2,5 km
2,8 km 55 m ↑
2,3 km
1:3000
Sprint Relay Courses
All course lengths measured on shortest running distance.
3 runners per relay team. In the Mixed classes Youth/17+/35+/50+ at least one Women should be on the team. In Open any team formation is possible.
Sprint Relay

Sunday

Map scale
Open Relay
2,8 km
1:4000
Youth Relay -16 years
2,1 km
1:4000
Relay 17+ years
2,8 km
1:4000
Relay 35+ years
2,8 km
1:4000
Relay 50+ years
2,1 km
1:3000
Event Team (VOC)
Event Director, Planner S1+3, Mapper

Erik Simkovics

Planner Stage 2

Vito Satrapa

Planner Sprint Relay

Henrik Sulz

Speaker

Wolfgang Pötsch

Timekeeping

Erich Göschl

Result screen, Radio controls & Photo

Rainer Burmann

Volunteers

Anna Ladenstein, Anna Simkovics, Benjamin Altmann, Christina Broinger, Erich Simkovics, Gudrun Englmaier, Guni Palme, Gunnel Nilsson, Julia Weinmayr, Martin Veitsberger, Nikola Perac, Sladjana Perac

Organiser Stage 3 & Sprint Relay